After looking around, I noticed that I really missed blogging. Sure, I have a tumblr but it has so many things to get distracted on. :C I post a lot of junk and it's just... icky. Not like the old fashion blogging I'm used to. I like putting thought and feelings into my blogs... And all sorts of other girly stuff. Now. To the blogging part:
MY YARN CAME IN YESTERDAY!!!
I was so excited to see my package by the front door. [Even though I specifically asked for it to be dropped off in the carport....] I nearly pee'ed myself in joy. But, alas, my husband Pete had to be an asshole and make me chase him down with fiery rage. Regardless, they came in and I'm so happy. Sadly the lighting in my room
SUCKS
. So the webcam pictures are
NOT
how they look in person.
(Imagination Hand Painted Sock Yarn)
And this is how it actually looks...
I can't wait to use this!! I'm going to be knitting myself a pair of socks. With what pattern? I'm not too sure. I have a pattern in a book I just bought today from Ruby Tuesdays, but I'm scared that it's a little too advanced for me just yet. Maybe next time. :D
And this is the yarn Pete picked out for me to make him a pair of socks. More than likely it won't be anything fancy. Just a simple sock... I mean, he is a man and I'm pretty sure he doesn't want a delicately laced pair of socks lol. Just something that'll fit his feet and not bother the shit out of him.
I also bought myself some new knitting needles from my Christmas money! I had 20$ out from 25$ Bank of America gave me for "referring" Pete to them, I'm pretty sure it was money to buy some weed but eh... I meshed it with 20$ I got from my biological dad and 25$ my mom gave me for Christmas. With that money I bought myself a set of
Hiya Hiya Interchangable Knittng Needle Kit 4 Inch Tips Small Sizes
from
Paradise Fibers
. With the coupon code
CL10
, I got 10% off my purchase, I only paid $64.45 when it's RETAIL price is $79.90 and it's normal store price is 65$. I think I did pretty good. :) I anticipate it's arrival on the 3rd of January...
As for projects? I'm currently working on finishing up some knitted gloves I'm selling on Etsy. I finished one glove, repaired it a little bit thanks to the lovely
Dawn
from Ravelry. Here are some pictures of the project...
Sadly, the pictures don't show the yarn's true color... again... Sigh. Here's what the yarn ACTUALLY looks like.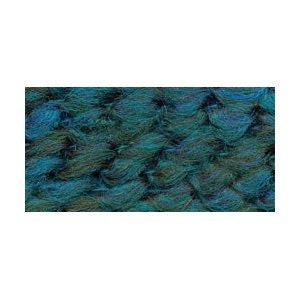 I'm thinking of knitting a bag after I'm done with this. At least, until my new needles arrive. :) I can't wait to hold them in my hands!!